Getting out of the holiday eating habits is hard and temptations are everywhere!! (damn you lingering holiday cookies) When you're juggling a million tasks the last thing you want to do is think about healthy food and cooking. Fret no longer ladies, we got you!! This 30 minute dinner saver that will keep you right on that healthy track.
Our friend Mario shared this recipe with us a few years ago and we have kept it in the weekday repertoire ever since! We did tweak the recipe slightly to our preference, hope you'll give it a try.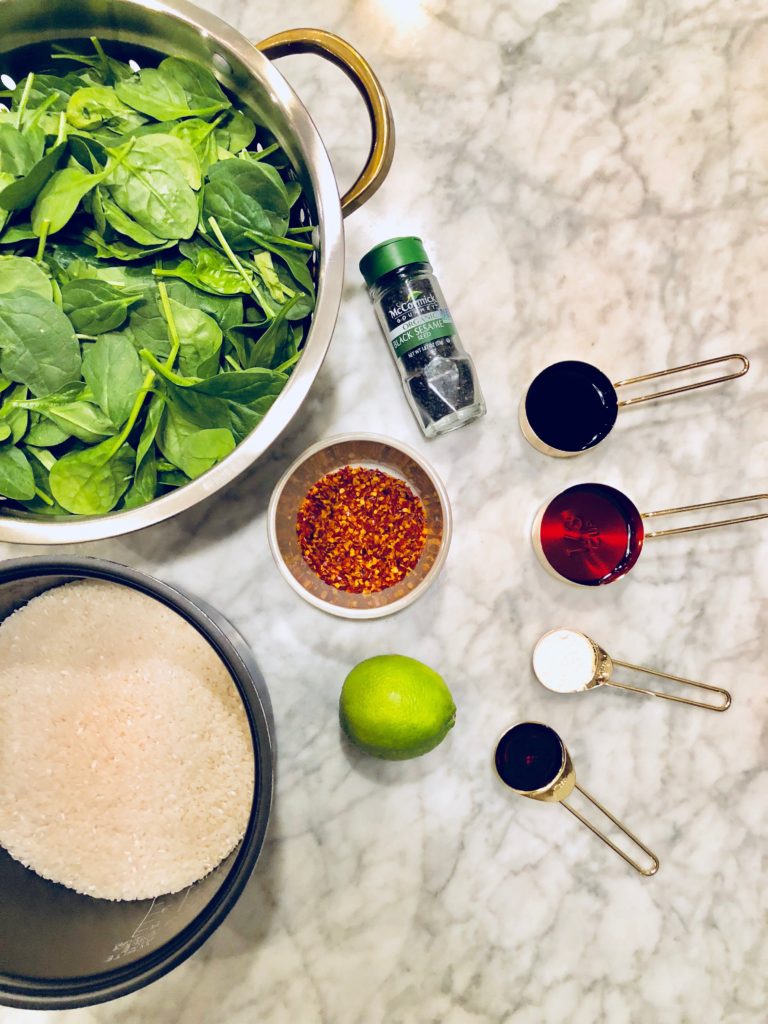 WHAT YOU WILL NEED:  
2.5 lbs. Salmon Filet

(you can keep skin on or off) 

1 cup jasmine rice — cook as the package directs
2 teaspoons avocado oil or olive oil

(this recipe asked for butter, skip that and save the calories)

1 tablespoon minced garlic
1/4 teaspoon red pepper flakes (we added more because we're spicy like that!)
3 tablespoons pure maple syrup
Juice of half a lime
4 tablespoons reduced-sodium soy sauce
1 teaspoon cornstarch
1 large box baby spinach (or more, cold spinach the next day is a great source of fuel)
2 teaspoons black sesame seeds
LET'S GET TO COOKING
Preheat the oven to 400°F.
Line a baking sheet with foil ready to place salmon on.
In a small saucepan, heat oil and add minced garlic and pepper flakes until garlic is lightly golden. Add syrup, lime juice and soy sauce; cook until bubbling. In a bowl combine cornstarch and 1 teaspoon of water; stir into garlic glaze. This will thicken up the glaze to pour over the salmon, which is on a foiled backing sheet ready for the oven.
Spread the glaze thoroughly to cover all areas of the salmon. place into the oven uncovered. I cooked the salmon for about 12-15 minutes depending on your preference. Check the salmon midway with a fork to ensure you are not drying the salmon out or overcooking.
In a medium skillet, warm oil over medium heat. Add package spinach; sauté until just wilted. Remove from pan; set aside. Repeat with second package spinach. In a dinner bowl place scoop of rice, scoop of spinach, and a 5 ounce cut of salmon on top Sprinkle with sesame seeds, and you're done! Enjoy!!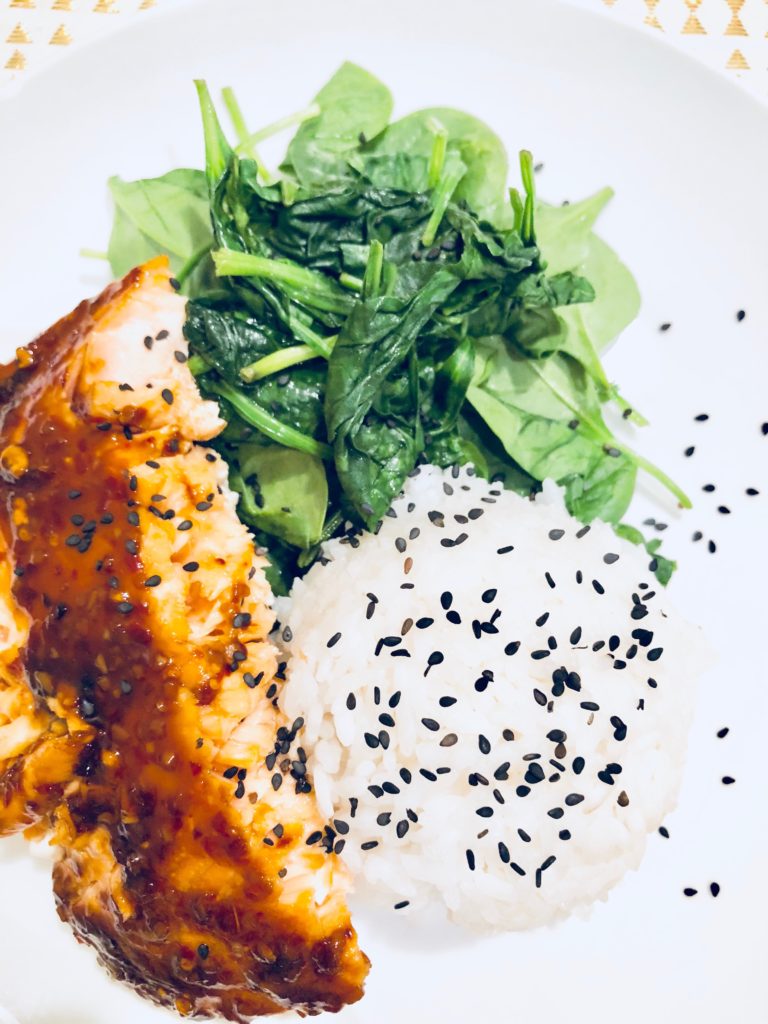 Last little note for this meal, if you're truly hardcore and wanting to shed even more calories, you can substitute the rice with cauliflower rice! Hope you share your pictures and thoughts with us soon!