Ok, let's be honest, we're only 29 and haven't created our own Thanksgiving recipes. Not to mention, this is our first Thanksgiving that we don't have to work! #restauranteventplannerlife So we aren't going to write a post about our best, tried and true Thanksgiving recipes…that's a work in progress. But here's a look at some of our favorite recipes that we've found and perfected over the last few years, best part is…they are easy for any kind of schedule. Oh, and since we love you, we've also included some tip and tricks for the perfect tablescape as well!
Before you start your Thanksgiving dinner prep, make sure you have a few things in place (these are crucial to success):
Plan your cooking with ENOUGH time. We suggest planning all items to be ready one hour prior to your party start time. This is HUGE when it comes to cooking "issues". Making this many items takes a lot from your oven and your attention, and the last thing you want is to be running late when everyone is ready to eat. Once everything is cooked, keep it in the oven on warm and serve "effortlessly" to your guest when you're ready!
Have a timer on hand, Amazon's Alexa is a MUST in our kitchen. You can ask her to place as many timers as you need, which is crucial to nothing begin burned. She also will keep you in high spirits through your cooking if you turn on Bev Weidner's playlist or Evening Commute on Spotify. She is a lifesaver (both Bev and Alexa)! 🙂
Let's start cooking, ladies! Pour yourself some wine (and a glass for us, too)…we got this!
Roasted Turkey with Pan Jus Vegetables
The "method" that we use was inspired by a recipe (or instruction manual, rather) that we found in Bon Appetit magazine. So here's our method: Let your turkey fully thaw (in the fridge), take out all of the giblets without gagging, and rub that thing down with butter, lemon juice and a dry rub (don't be shy with that buttah either). Our dry rub consists of: salt, pepper, dried thyme, dried rosemary, garlic powder, onion powder, a dash of cumin and a dash of chili powder.
We stuff the inside of the turkey with large cuts of onion, slices of lemon and more butter. Then, we toss trimmed brussels sprouts and carrots in olive oil and put them on the bottom of our roasting pan around the turkey. During the last 45 minutes of cooking, add a handful of fresh, whole cranberries to bring some sweetness to your savory bird. Put that baby in a 350 degree oven (uncovered) and waiiiit for 3.5 hours. If you have a meat thermometer, the turkey will be done when the internal temperature is 165 degrees. Keep an eye on it! Set that kitchen Alexa timer as soon as you place it in there, you don't want an over-done bird. We mentioned Alexa before, you won't regret getting her assistance in your life!
Like we mentioned earlier, Bon Appetit magazine is ALL THE THINGS for the modern, everyday "Chef". It has become our go-to guide for fresh ideas and interesting new recipes.
PS: everyone has that "ultimate host" friend in their life, a subscription to this magazine would be such a great holiday gift!
And now for all of the sides (In our opinion, the sides are the best part of the meal!):
Grandmom's Cornbread Dressing
My Grandmother's Cornbread Dressing recipe is truly one for the books and Mom Cheryl gave us permission to share with all of you! (You'll want to take note of this, girls!) This is one of our prized family recipes that we crave all year long!
Starting with your cornbread, you'll want to make a double portion of the following:
Sift together 2/3 cup flour, 2/3 cup yellow cornmeal, 1 tablespoon baking powder, 1/2 teaspoon salt and 1/4 cup sugar. Add 1 egg, 1/4 cup oil and buttermilk to moisten (about 3/4 cup…not too soupy, not too dry).
Bake at 420 degrees for 20 minutes or until done in the middle. I would recommend baking half of the batch in muffin tins and the other half in a small/medium cast iron skillet…this gives a nice balance of crispy edges and fluffy center. Once your cornbread is done, let it sit to fully cool. I'm serious, don't use it for the dressing until it's fully cooled.
For your dressing, you're going to chop 1 package of celery with the leaves, 1 green bell pepper, 2 bunches of green onions and 1/2 of a sweet onion. Once you have all of that chopped, heat a large pan and sauté all of it in a stick of butter until soft. Once veggies are soft, crumble the cooled cornbread on top and add 4 bouillon cubes, 2 cups of warm water and one(-ish) box of chicken broth (again, not mushy and not dry). Season to taste with garlic powder, salt and pepper. Once it's all mixed up, transfer it to a greased, glass baking dish and bake for 45 minutes on 350 degrees (it'll be golden brown on top when it's done).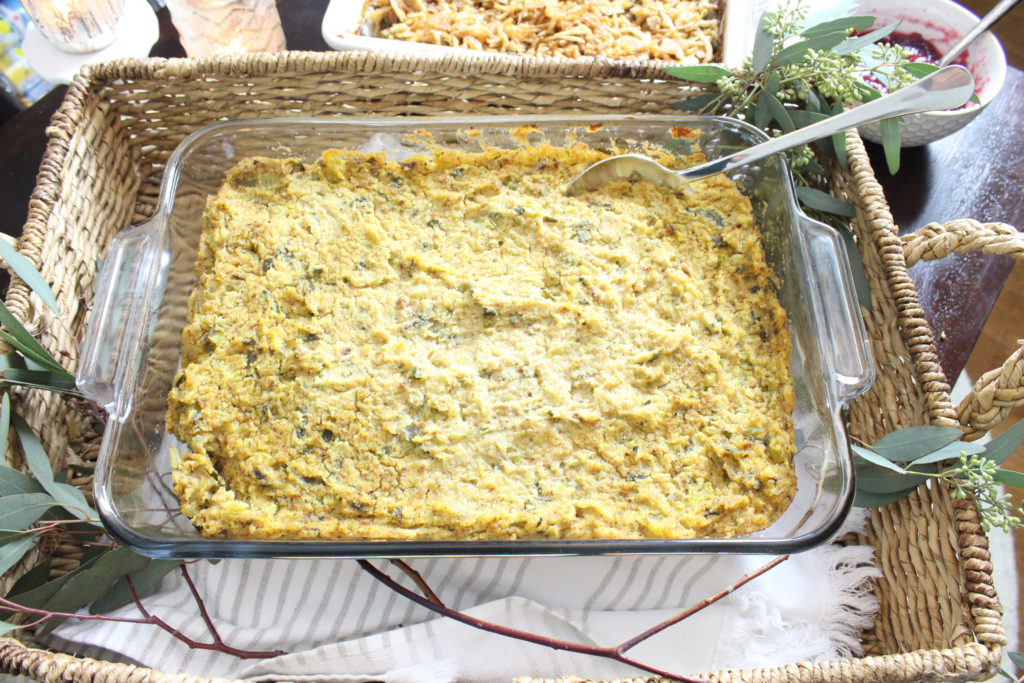 Whipped Potatoes
Okay, easiest part of this dinner, use BOB EVANS whipped potatoes!!! Yes, I said Bob Evans. But really, it's the best hack to simple potatoes and your family will never know! Whipped potatoes are a must for any holiday dinner, but not something you should be stressing over in the kitchen. We have been using Bob for the last 5 years, mainly because we work every holiday and needed something quick, and we can attest to it being just as good as potatoes made from scratch! You will hear a lot of ladies sharing this secret (now that hacks are cool) but we have been preaching this method for YEARS!  We have fooled many of our guests and its the best! Depending on how many guest you are serving, we usually will get two original mashed potatoes and one of the sour cream and herb flavor, mix them in a pretty pot and BOOM you are served.
Green Bean Casserole
This is one of those dishes where you just "wing it". Here's what you need:
1 can Campbell's Cream of Mushroom soup
1 can Campbell's Cream of Chicken soup
2 bags of frozen green beans (thawed)
1 package of Cremini mushrooms (chopped and rinsed)
1 package of French's crispy onions
Salt, pepper, cumin, garlic powder
Mix green beans with the soups and the mushrooms along with salt, pepper, dash of cumin and garlic powder. Once fully mixed, spread in a glass baking dish. Bake at 350 degrees for 35 minutes and then sprinkle crispy onions on top and bake for another 5-7 minutes until the onions are golden.
Candied Yams with Cranberries
When cooking for a large group, you want to hit every flavor department, even though we have the mashed potatoes, we always make a smaller batch of candied yams to bring in some sweetness.  Start by preheating your oven to 350°F.
What you'll need: 
4-5 sweet potatoes (we did a rough peel to keep some of the skin on. Keep your potatoes thick so they don't become mush in sugar when baking) 
1/2 cup salted butter (or more…. you never can go wrong with butter right???) 
3/4 cup granulated sugar
3/4 cup packed light brown sugar
1/4 cup heavy cream
1 tablespoon vanilla extract
1 teaspoon ground cinnamon
1 teaspoon kosher salt
1/4 teaspoon ground nutmeg
Melt butter in a small saucepan on medium heat to ensure it won't burn. Add sugars and stir until fully combined. Add the heavy cream and cook until it simmers for about 5 minutes.  Remove from heat; stir in vanilla extract, cinnamon, salt, and nutmeg. Taste your mixture and make sure its exactly what you want, sometimes adding a  bit more salt will help with the sweetness.
Add the washed and peeled potatoes to your baking dish and pour over your sugar mixture. Toss the potatoes so they are coated fully. Our secret was to add some fresh cracked black pepper right before baking. This will give the potatoes the perfect savory and sweet flavor. Cover your dish with foil and bake for about 35 minutes, constantly checking the tenderness. Don't over-cook the potatoes, you want them to have a bit of firmness. Once you pull them out of the oven place a few fresh whole cranberries to give your dish some color.
For this dish, I used my FAVORITE new addition to the kitchen, my Le Creuset casserole dish. Absolutely LOVE it and it's a must have. When buying, I would suggest to go with the color white, its beautiful with any dish and compliments the rest of our table decor so well.
Tablescape
Your table should be the easiest and most fun part of the holidays! Keep it simple and neutral… don't go to the store with nothing in mind and then buy every cute thing you see. Depending on the length of your table, you maybe able to take your decor all the way down the center, and enhance each place setting as well. If your table is slightly thinner or you are planning to place all your food on the table, this may not be the best approach. WORK WITH WHAT YOU GOT!
Typically at the events and dinners we have hosted, we like to set the food up as a buffet in one space and enjoy the table for actual dining. This will help keep your decor from being in the way or people struggling to find a spot for bowls being passed around. Our husbands also feel less ashamed piling it on their plates at the buffet, rather than sitting next to someone waiting for them to be done with your third scoop of mashed potatoes. HA!
If you have followed us for a while now, you know our serious obsessions with eucalyptus. We have constantly told you about Trader Joe's selection of flowers, but their eucalyptus is the best! It's only $2.99 for a whole bunch and you just need a few bunches to take your decor to the next level. It's such a affordable way to gets some greenery on your table. Keeping your arrangements lower also helps keep the conversation flowing at the table and most of all passing the wine refills easier!
We also personalized each placesetting with a name card. It's as easy as this: find a rosemary graphic online, find a pretty font on DaFont.com, plug it all into Microsoft Word. Print on cardstock, cut them out, put them down. DONE! Also, this is a good way to control where everyone sits at the table.
Something we didn't photograph is the wine station we like to setup in the dining room. Setup a tray with the wine, a wine key and decanter near the table. That way, you don't have to leave the dining room to get more wine. Plus, it's such a pretty presentation!
Happy Thanksgiving, friends! Send us your Thanksgiving photos on Instagram!
Xoxo, M+N