Hosting friends and family may be our favorite hobby, but we will say, it can be overwhelming and costly when you do it so often. Here are some tips to keep your bank account happy and also WOW your guests while looking like the effortless host juggling it all!
Our gatherings always have a fun twist, even if its just a few friends coming over or a four-course dinner party. With springtime finally here, we know that the bridal/baby showers and birthday celebrations are right around the corner. The ideas are endless with Pinterest and that's where the overwhelming feeling can stem from. Our five go-to standards for an unforgettable celebration are:
Event space that fits the theme (also pick somewhere you know everyone will have a good time)
Floral arrangements (we never regret spending $$ on flowers)
Custom place settings (makes each guest feel important)
Balloons (they easily enhance your decor from basic to WOW)
Fun dessert or treat (duh, just another reason to eat sweets)
With Mandy's 30th being a milestone birthday, there were a lot of cheesy decor items out there that didn't fit our theme. We wanted to keep it simple and classic, with some great feminine touches. It all starts with the location. We decided to host this party at a restaurant, to keep it easy and bring everyone out of the home setting.  We did some research on a location that was central for all our guests, but still gave us the the feeling of getting out of the burbs.
BistroVG was PERFECT! We recommend it to all of our ATL natives that are looking to host a shower or birthday, or heck, even a great date night spot. They are closed for lunch, which is music to our ears because that means early set up is an option! They were so accommodating and allowed Nisha to arrive early and just get creative with the space. The restaurant is all white and fit perfectly with the decor we chose. The service, drinks and dinner were a hit, which made it to focus on the guests and our birthday girl! Big thanks again to BistroVG for all their help!
For decor, we started with items we already had around the house. It is essential to always have some great candle holders and vases at home – they become functional in so many ways. And they're super handy when setting a table and giving your party a personal touch. You can get these from Target, Homegoods, Ikea, and a secret of ours is the dollar store! Stay neutral when you pick these so they work with all your events year 'round. We then spend most of our time and money on the add-ons like this cute cake topper from Amazon for $4 and BALLOONS! Amazon is a dangerous place, but so helpful when you looking for quick and simple items. Give yourself a limit, though, or it could be a rabbit hole of spending. 
You may think balloons are so dated, but the balloon game has truly stepped up! There are so many options these days and we use them all the time. We get ours from Amazon, and now the Dollar Spot at Target has these mylar 12" numbers and letters.
We used these 36" LARGE white and clear confetti filled balloons as two focal points of the table. They made the decor so much more than just a pretty table set up. We do suggest you get them filled at your local grocery store vs. Party City – they charged a little bit more than we wanted to spend on air.
Flowers will never disappoint! You have heard us a million times preaching about Trader Joe's flowers. They have a wide selection to choose from, but go early! Become friends with the floral department, they can tell you when their shipments come in and hold some arrangements for you in the back. The eucalyptus bunches are $3 and we use those down the center of the table. The baby roses are $6/dozen and hydrangeas are $5/bunch. THAT IS A STEAL, LADIES!!!
We added some seasonal bunches that are small and delicate to fill the vases and add to the place settings. Decorating each seat is just another way for your guests to admire your decor and hard work… and I mean it looks so pretty!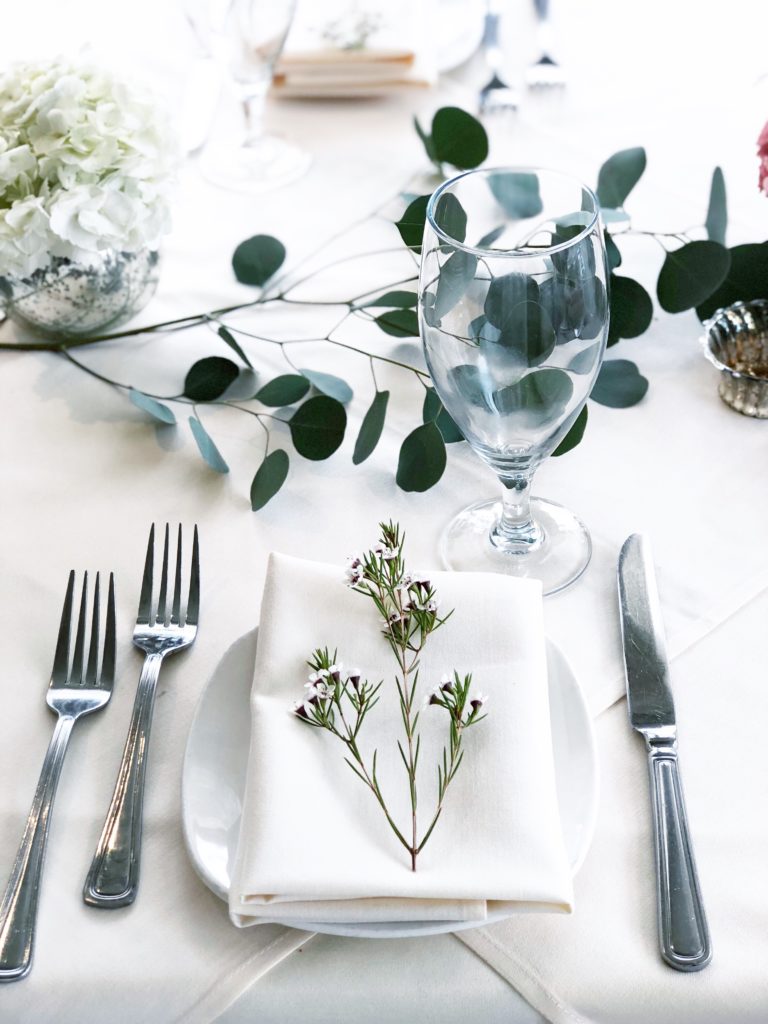 Finally, we hid a few strands of twinkly lights under the greenery. Those are from Amazon as well (told you…rabbit hole!) which were $12 for a pack of 6 strands. They last for a few times before you have to get new batteries, but we have used them a lot over the years. They really completed the table and gave it a romantic feel.

Now for the best part, the CAKE! How many times have you heard that Publix makes a great cake? Hundreds of times, right? Well thats exactly who we use! We told the baker to give our cake the naked icing look and she nailed it. We then got macaroons and cookies from Whole Foods. We took the macaroons and some of the extra florals to decorate the cake. We used toothpicks through the macaroons to make them lay at different angles and then filled holes with flowers. 
This party was a hit, and all our guests really appreciated all the details. We also caught the eye of restaurant guest around the table that complimented all our efforts. With our schedules begin crazy and our "day jobs" taking a lot of our time, this was such an easy and stress-free party to plan. Remember those five tips and make sure you always have fun when planning. If you ever need any help or suggestions, shoot us an email, we will be happy to lend a hand! HAPPY HOSTING, LADIES!